Strong Connections
Certificate management experts with strong insurance connections
Dependable
Reliable compliance verification
Industry Veterans
Over 20 years experience with verifying insurance coverage
Cost Savings
Greater knowledge at less cost
Reducing Your Risk Exposure
For more than 20 years, ICA has specialized in verifying the required insurance coverage and contracts of Certifying Entities (CE) that our clients rely on in their daily business operations. Certifying Entity is a collective term for contractors, subcontractors, vendors, tenants, suppliers, distributors, concessionaires, franchisees, equipment rental companies, and anyone else with whom you have an agreement containing insurance and indemnity clauses.
We have provided verification of insurance coverage and contractual compliance on tens of thousands of publicly traded and privately held companies that serve risk-intensive businesses.

Through our online, interactive program — for each of our clients' Certifying Entities — we analyze each certificate for not only expiration and limits, but more importantly additional insured, waiver subrogation, and other policy language.
In the process, we automatically generate renewal requests, communicate discrepancies, and generate instant reports of compliant and non-compliant CEs so you and your staff will know the Certifying Entities with which to conduct business in order to reduce further risk exposure.
Utilizing the insurance industry ACORD forms and specialized Supplement to ACORD© 25 forms and other insurance documents, we scan and input coverage information into our system — providing immediate visibility for verification of coverage and compliance with your contract requirements.
At ICA, we are dedicated to providing your company with the most accurate and reliable information verification, which you recognize as both a vital necessity and a daunting logistical challenge. As a result of outsourcing this crucial responsibility to ICA, you can conduct your daily operations with a high degree of confidence that all the risk protection measures you've put in place are adequate and truly in full force. You can rest assured the net effect is to lower your cost of risk.
Cost Benefits to Outsourcing your Insurance Verification Process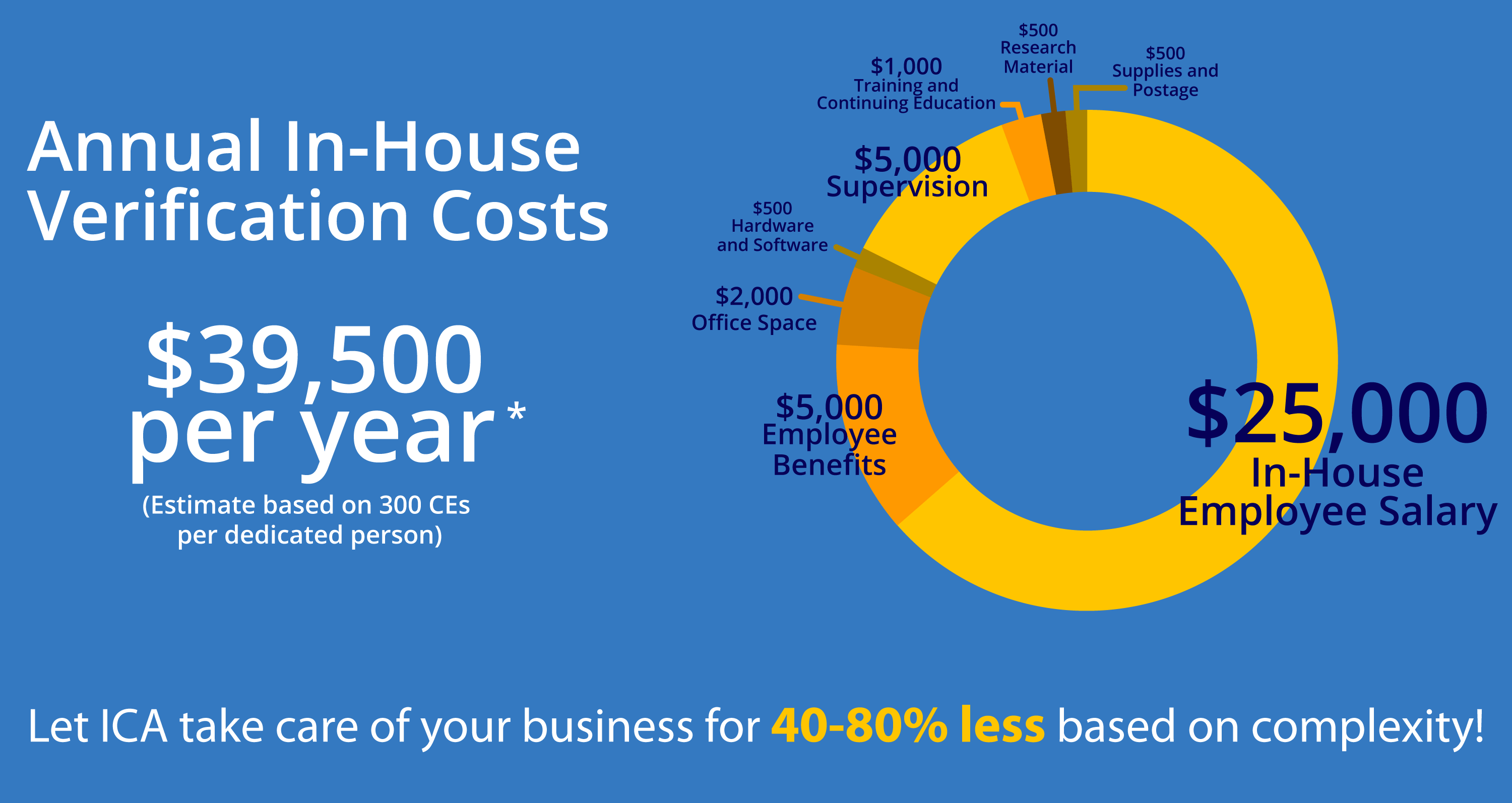 * This calculation of $39,500 is a very conservative estimate, as it is doubtful that an experienced insurance professional fluent in contractual details and insurance coverage analysis is available at that salary.

When you outsource to ICA, you simplify insurance verification, while gaining immediate visibility into your Certifying Entities' coverages — all at significant savings over the cost of equivalent in-house services.
In addition to insurance verification services, we also provide contract implementation. During this phase, working with your Certifying Entities, we track receipt of contracts and transmit documents to your company for execution.
Once contracts are in place, we follow up with Certifying Entities on any insurance and indemnity discrepancies and verify insurance policies, not just certificates, meet all requirements. We promptly issue reports — both to you and your Certifying Entities — on areas of noncompliance. We also interface with Certifying Entities and their agents about specific measures to achieve compliance.
Addressing yet another ongoing need, we also provide documentation for various audits, W-9 forms, and other business documents.

Once you're convinced that outsourcing is a good idea, remember that ICA digs deeper than the competition. We go beyond simply ascertaining whether policies are in place; we take a closer look, comparing the details of insurance coverage with the contractual insurance requirements and indemnity obligations to ensure their compliance.
While most organizations make an attempt to collect certificates of insurance, most do not have a mechanism in place to verify the subtle requirements of indemnity obligations. ICA will:
monitor a change in coverage or agent
verify the insurance
manage compliance
implement controls in order for you to focus on your own business operations.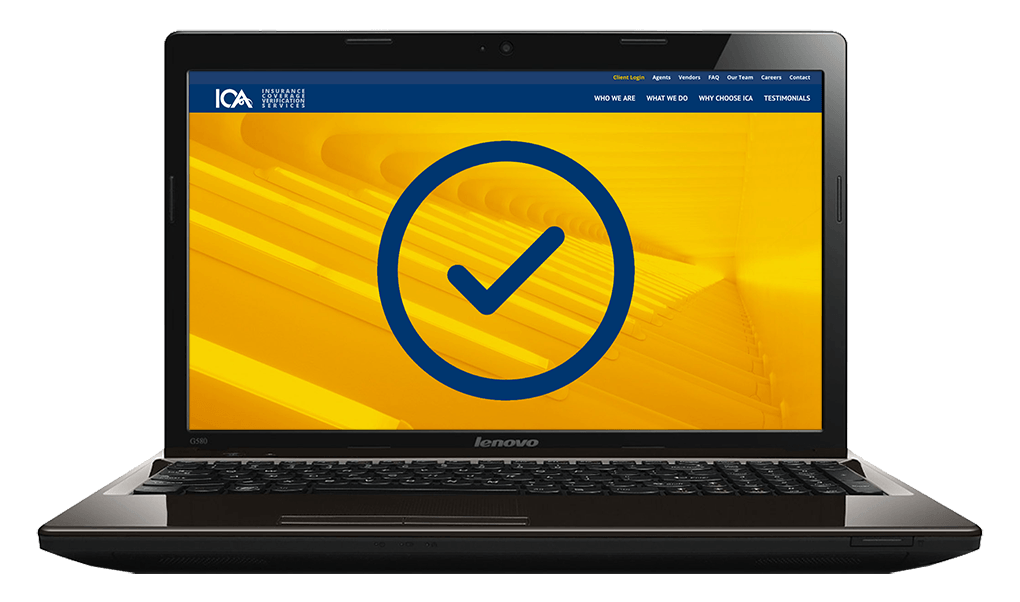 Accessible, Convenient Online Reporting
ICA's internet-based service allows your company interactive online access 24/7 and provides complete privacy and security. Following are just a few examples of the types of customized information that, as our client, you can easily access online:
Coverage
Certifying Entities meeting or not meeting insurance requirements
Certifying Entities with deferred requirements
Policy types
Individual expiration dates
Coverage Limits
Certificates
Certifying Entities with or without Certificates of Insurance
Certifying Entities' insurance agent's information and insurer's AM Best rating
Compliant Certifying Entities
Non-compliant Certifying Entities
Workers' Compensation
Certifying Entities with or without Workers' Compensation
Certifying Entities not reporting statutory Workers' Compensation
Contracts
Certifying Entities with or without contracts
Certifying Entities with or without accepted revised contracts
Status of Contracts
No matter what line of business your company is in, you can reap the benefits of outsourcing insurance verification if you have Certifying Entities that require proof of contract compliance. ICA does not outsource any processing of documents; all services are performed in Texas.
Let us show you how ICA can better protect your company while saving you money with a personal demonstration and a free quote!
Copyright © 2016 Insurance Certificate Administrators LP